The Tastiest Store Bought Pasta Sauces
Pasta night is one of our favorites. But we don't always have time to grab tomatoes and whip up a fresh tomato sauce from scratch. So, like most people, we often find ourselves scouring the isles of our local supermarket in search of a perfect sauce. But the sheer amount of options can make it pretty overwhelming to consistently choose. So we set out to make a definitive list of the best pasta sauce's that can be found in most supermarkets or retailed online.
We wanted to keep the list narrowed down to red sauces, and even with a focused scope there are still a ton of different factors to consider. So what exactly goes into picking the best pasta sauce? Things like ingredients, price point, consistency, and ultimately taste all have a massive impact on whether or not to consider certain brands.
It's important to get sauce that tastes like it was freshly made, and not to settle for jars that are tasteless, or even too sweet. The best pasta sauces have a complex yet complimentary mix of flavors that don't overwhelm the taste buds. It can be a tricky line to toe.
And look, we get it. Pasta with a heaping portion of tomato sauce isn't the most healthy meal options. But that being said, it's still important to resist brands that pack unnecessary ingredients and excess sugar into their recipes. After all, it's important to save room and calories for the heaping portion of parmesan or romano cheese that we love to sprinkle on top (just make sure to use freshly grated cheese instead of pre-shredded).
So without further ado, here is our list of some of the best pasta sauces available for retail, and where to get it.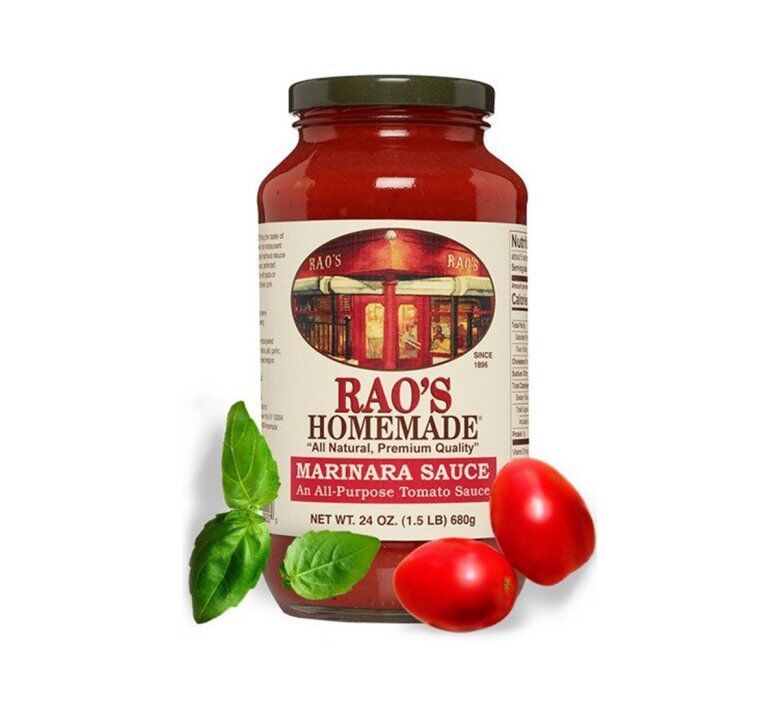 Coming in at the top of our list is the legendary Rao's. Ever since this uber popular and secretive NYC eating establishment started making their red sauce available in grocery stores nationwide, they've staked a claim to having the best pasta sauce year in and out.
Flavor: This sauce has a tremendous and rich flavor profile, which they achieve with using a natural and small list of ingredients. Imported Italian tomatoes and olive oil pair with garlic, basil, and onions to make a seriously good sauce. It's well salted and perfectly sweet, and is perfect on pasta, paired with meatballs, or even just to soak up chunks of bread.
Ingredients: Rao's Homemade Marinara uses a short list of all natural ingredients, with no additives or processed sugars.
Consistency: Because they use natural ingredients, this sauce has a perfect consistency. While some sauces may be runny or too thick, Rao's has found the perfect balance. The tomatoes aren't chunky, and it's a beautiful looking sauce that tastes the part.
Price: With a generally reasonable $8 price tag, this sauce is still a tad more expensive than the average can of sauce. But don't worry, it's totally worth it. No other sauce combines the high level flavor profile and organic ingredients for the price.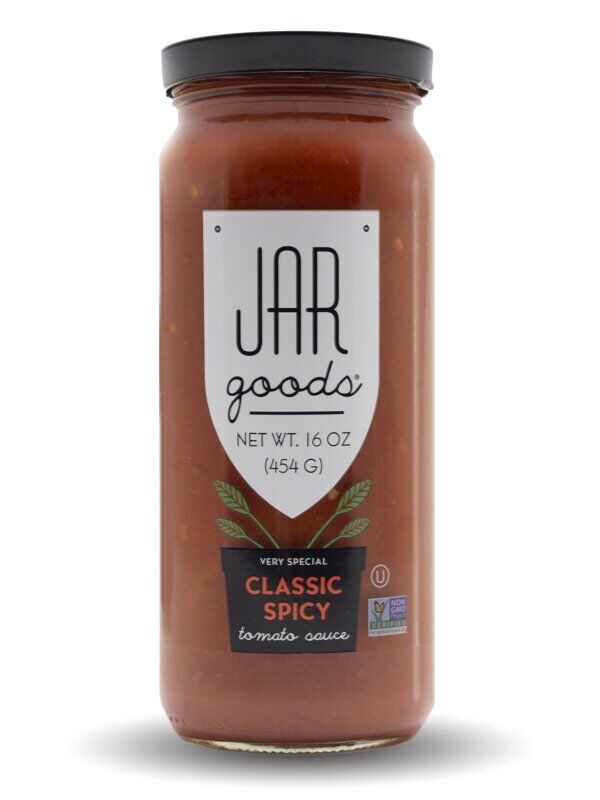 There's nothing quite like a spicy arrabiata sauce, and with all due respect to Rao's (who make a fantastic spicy sauce), Jar Goods comes in at the top of our list. With an impressively hot flavor profile and fresh, distinct ingredients, this store bought brand excels when it's time to turn up the heat.
Flavor: This sauce is sure to satisfy the pallets of spice lovers everywhere. Red and black pepper dial up the heat, but the fresh vine tomatoes add a sweetness that pairs well. The rest of the natural ingredients help deliver serious flavor, the garlic aroma makes this one of the tastiest choices of all of the sauces that we tried.
Ingredients: Sticking with natural ingredients and shirking additives, this sauce made from tomatoes, olive oil, garlic, onions, basil and salt and pepper. Oh, and we can't forget the red pepper that provides the signature heat level we love.
Consistency: This sauce has a nice consistency. It's not too thick, but if there's any complaints its that the oil didn't seem to dilute particularly well, and formed a very thin layer at the surface.
Price: Trending more towards the expensive end, this sauce retails for around $9-10 a jar.
Best Vodka Sauce: Bertolli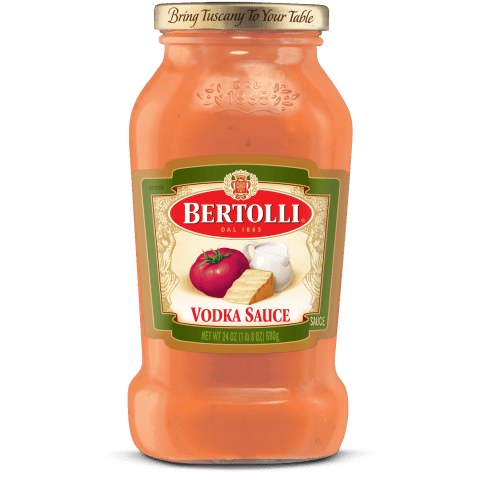 We found a great vodka sauce to be among the most difficult to find in terms of high level taste. Most store bought brands lack the creamy flavor of restaurant quality sauces, and came out a little too watery. But Bertolli nails it. With a recipe perfected since 1865, their vodka sauce really shines.
Flavor: A subtle flavor of vodka is apparent, but is complimented by the sweet, ripe vine tomatoes and tinge of fresh cream that gives vodka sauce its signature flavor. Notes of garlic and pepper are also apparent, and help round out a very balanced, sweet tasting sauce.
Ingredients: Starting with vine tomatoes, a splash of vodka and some fresh cream, this sauce does have a few additives for binding purposes. The ingredient list isn't too long, but it's not as organic or simple as many standard tomato sauces. But vodka sauce can be a bit complicated, so it gets a pass.
Consistency: This part is key for vodka sauces, and it's where most store bought brands completely miss the boat. Luckily, the Bertolli sauce is thick but not pasty, an important distinction for a vodka sauce.
Price: A jar usually retails between $9-10.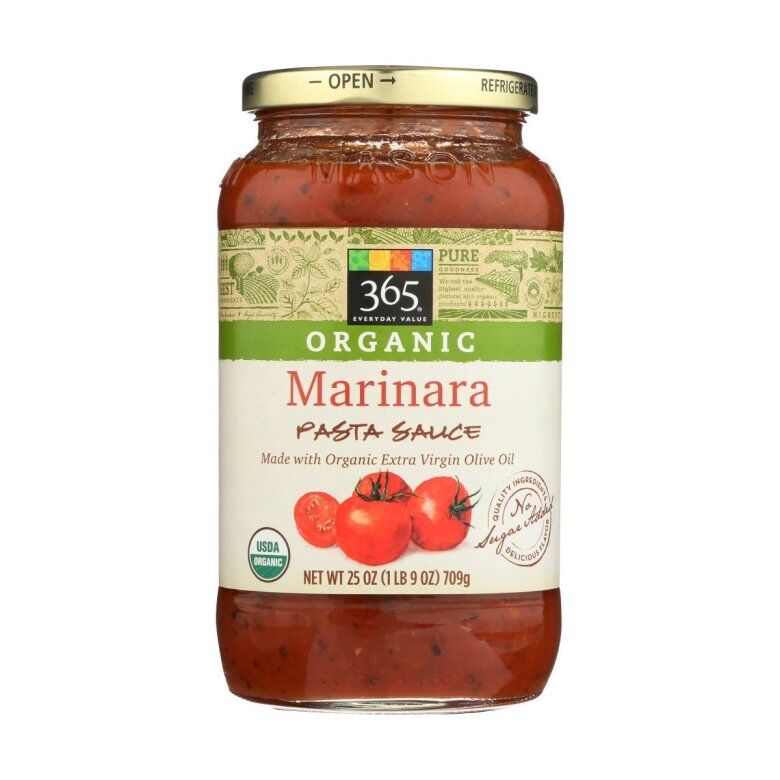 Most of the options for supremely cheap sauces are stuffed with excess sugars and additives. But not the 365 from Wholefoods. Boasting a small list of all natural ingredients, you don't have to break the bank to serve up a delicious pasta dinner.
Flavor: Look, this sauce isn't going to confuse anyone with a Michelin rated restaurant. But the natural ingredients shine through, and the olive oil and garlic add a nice base. The tomato taste is apparent, and the sweetness is a nice bonus and doesn't hijack the rest sauce.
Ingredients: Tomatoes (diced and puree), garlic (organic and puree), olive oil, onions, basil, oregano, pepper.
Consistency: While not offensive, we found this sauce to have a more watery texture than other brands on this list. While it's not a deal breaker, it was noticeable.
Price: The is by far the best pasta sauce for the most insanely cheap price. You can grab a jar of this sauce for as little as $1.99 a jar!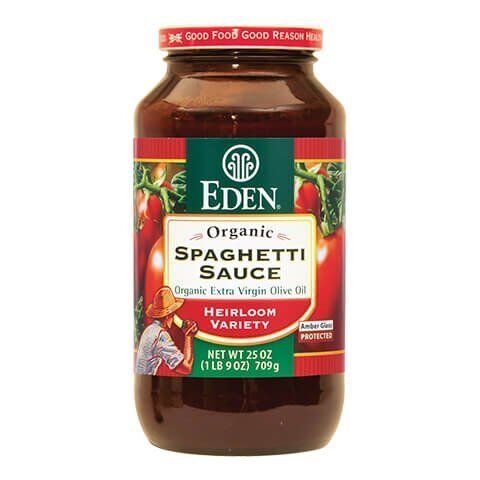 Tomato sauce is inherently salty, so it can be a challenge to find a passable option when trying to cut down on sodium and err on the healthier side. Salt is the basis to a ton of flavor for a red sauce, so a lot of low sodium options that don't add salt can come off as tasteless. But Eden does a pretty good job of putting out a fine tasting sauce sans the salt (except for what comes naturally from the tomatoes, of course).
Flavor: Not half bad. You might would think that sauce without excess salt could be lacking, and usually it would be the right call. But this spaghetti sauce relies on the tomatoes and other natural ingredients to provide a relatively sweet and good tasting sauce. One thing that makes this sauce special? The use of heirloom tomatoes lends a distinct and unique taste that a lot of store brand sauces lack.
Ingredients: Minus any added salt, this recipe includes heirloom tomatoes, olive oil, dried onion and garlic, basil, oregano and pepper. No additives or excess sugars.
Consistency: This sauce was surprisingly thick, and not in a gunky way or off putting way. The texture was what one could expect ordering red sauce from a restaurant.
Price: A pleasantly surprising option, a jar can retail between $5-7 in most supermarkets.
*Have a favorite pasta sauce that you love but don't see? Drop us a line! We're strive to constantly update our best pasta sauce list, and always love a good excuse to eat some pasta!