Everything You Need To Style White Kitchen Cabinets
When it comes to kitchen style, you can never really go wrong with a classic white. The color stands the test of time and is versatile enough to go from traditional to contemporary, farmhouse, or even sleek and modern. A kitchen anchored with white can bring a clean, crisp, and fresh appeal to a range of design styles both fitted and unfitted making it popular with many types of homeowners.
Kitchen cabinetry are a crucial part of your theme given how pronounced they are in a space. White kitchen cabinets especially, enlarge the appearance of a space and help reflect light, which is a huge plus to have added brightness in a workspace.
There are countless ways to design white kitchen cabinets using a variety of styles, materials, and adjacent color pieces. This guide will help inspire style combinations and showcase white kitchen cabinets as an excellent design choice.
Clean And Simple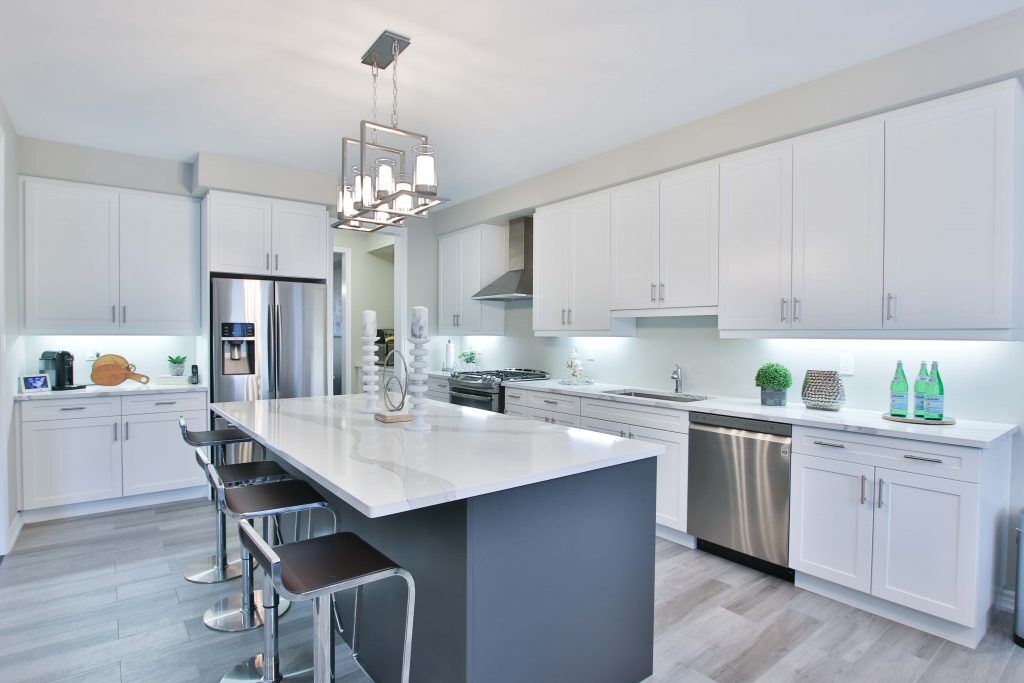 You do not have to spend a lot on cabinets to get a simple look that can often be very affordable. Cabinets such as the ones above give off a clean vibe to your kitchen but don't draw too much attention. A huge plus is that a style like this won't break the bank with options from Ikea and Wayfair that are worth considering. When going with a clean and simple style you allow other parts of your kitchen to attract attention whether it be countertops or a backsplash.
Two Tone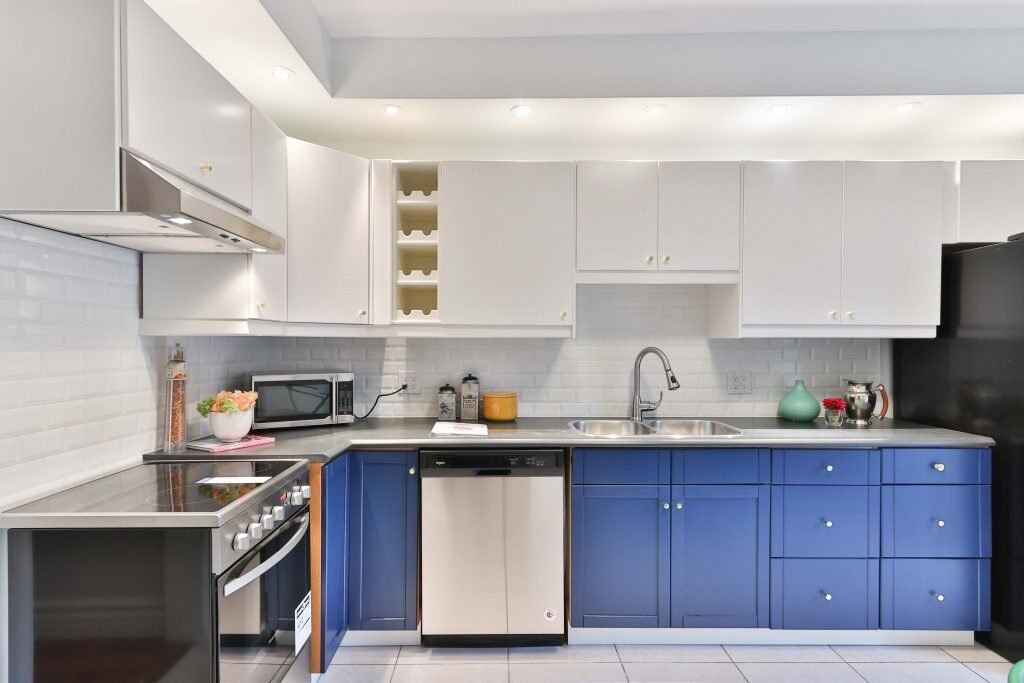 If you are looking to have a little more fun with your kitchen a two tone color palette can really make it pop. Seen here is a set of white shelf cabinets paired with sleek blue lower cabinets. This style is great for giving off a casual, younger, and more fun appeal to what normally could look too uniform. Keep this in mind especially if you are designing an unfitted kitchen were this style can really work well in.
Zen Inspired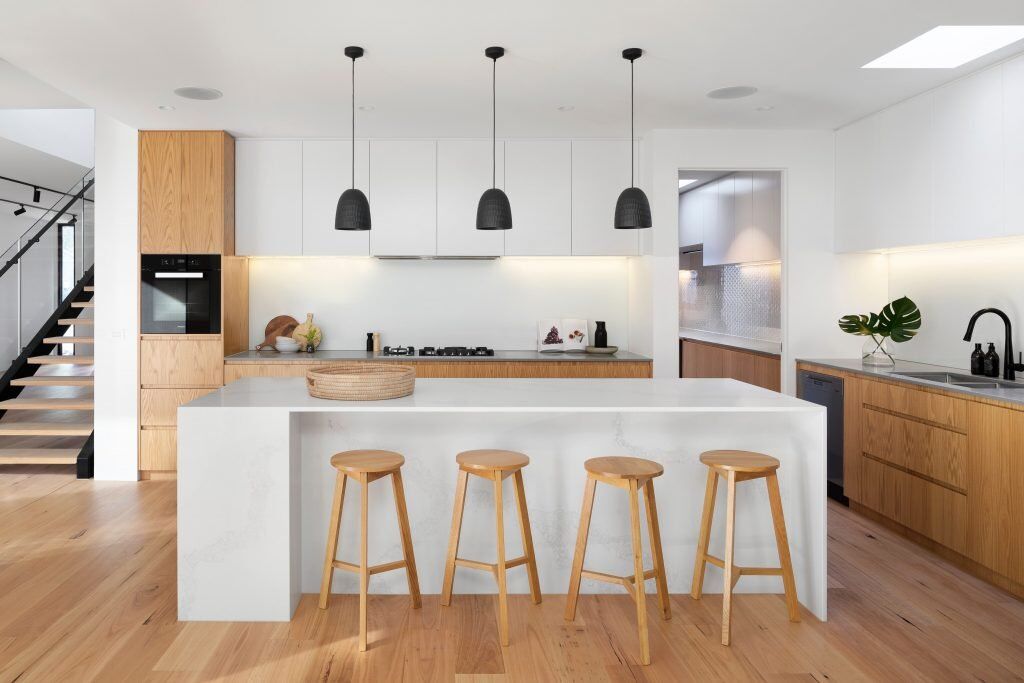 Matching a light wood with minimal white cabinets will certainly give a calming look to your kitchen. This kitchen gives off a zen like calming feel and takes some inspiration from modern Japanese style making your home feel like the Nobu hotel. If choosing this style keep in mind the amount of appliances or stuff you keep on countertops as it's best to make it as minimal as possible. Avoid the cutter and this style will calm you every time you walk into your kitchen.
Antique Luxury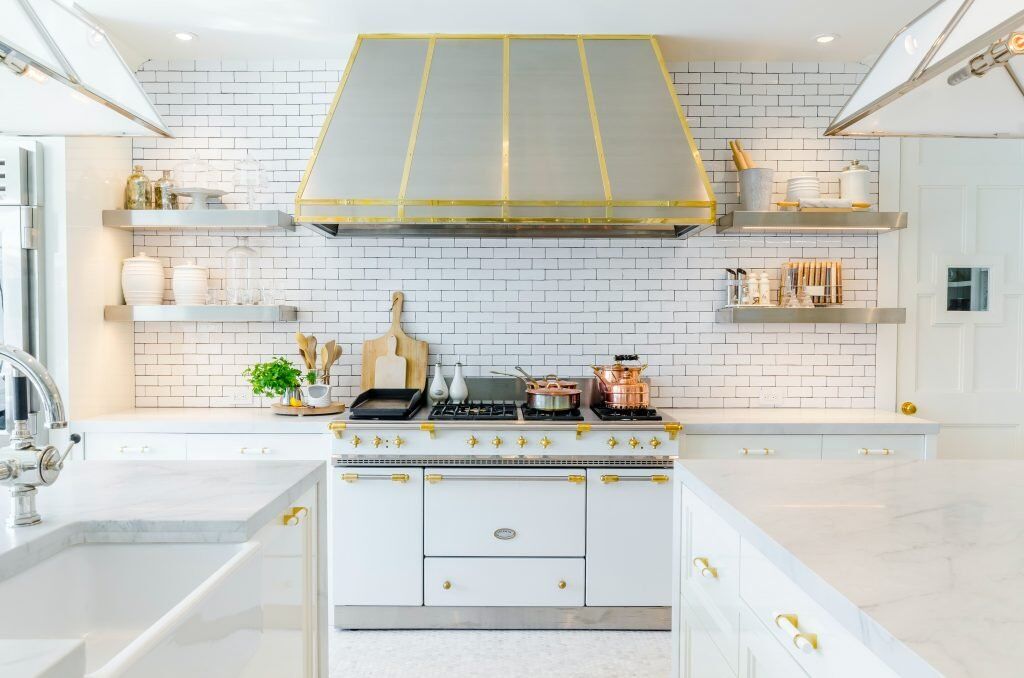 A multitude in shades of white a long side high end appliances really makes this kitchen scream luxury but not overdone. The white cabinets and accents perfectly compliment the centerpiece by Lacanche, a French producer that has been manufacture kitchen range cookers by hand for almost 200 years ago, and is highly rated as one of the best oven range makers around. A kitchen like this reveals to others you are well off but not into a tacky style that involves spending money for the sake of it.
Minimal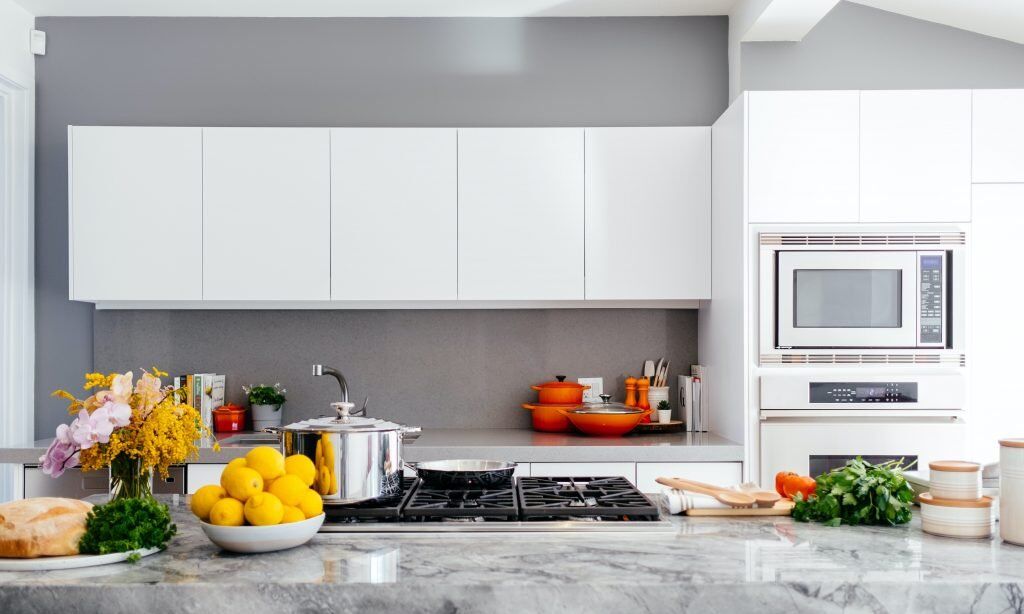 Ditch the cabinet handles when going for a minimal style and let each section line up with little space in between. This style almost hides the look of cabinets and really gives off a sleek style to your kitchen. We like this style for those that use their kitchen for more than just cooking whether it be for a party or gathering place for family. A good pairing when going minimal is to have other pops of color, whether in your appliances or cookware that will really stand out next to these cabinets.
Farmhouse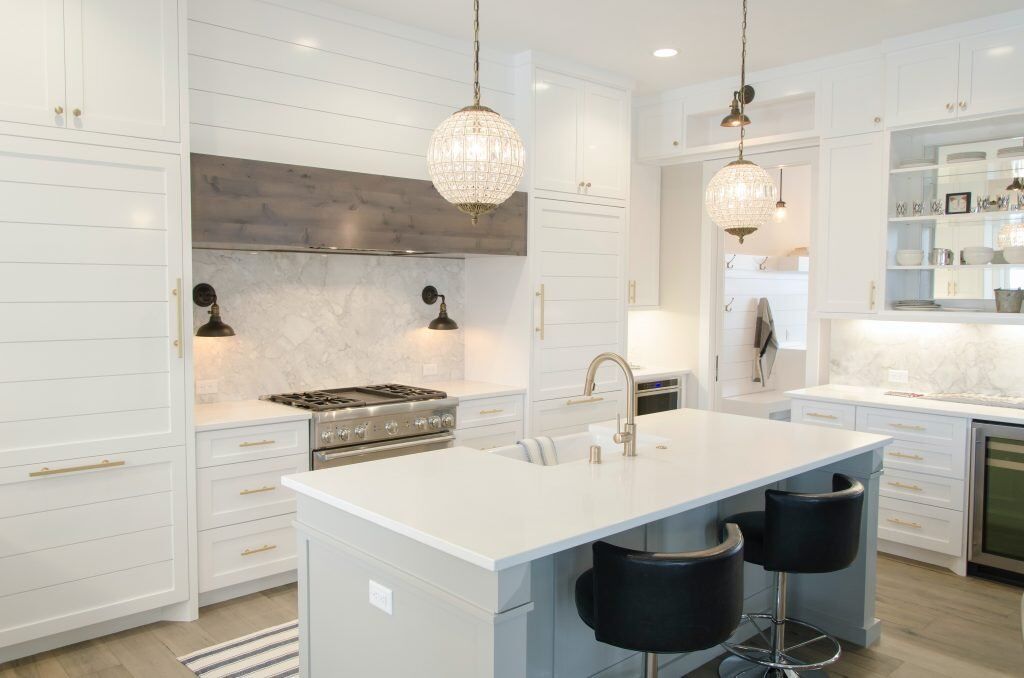 The lining on these cabinets add a wooded farmhouse feel that will give a warm feeling to your kitchen without going overboard. We love the added hints of design that almost blend in without drawing too much attention. If you have a house near the beach or in a sunny location then we find a kitchen like this to be a perfect pair.
Ultra Modern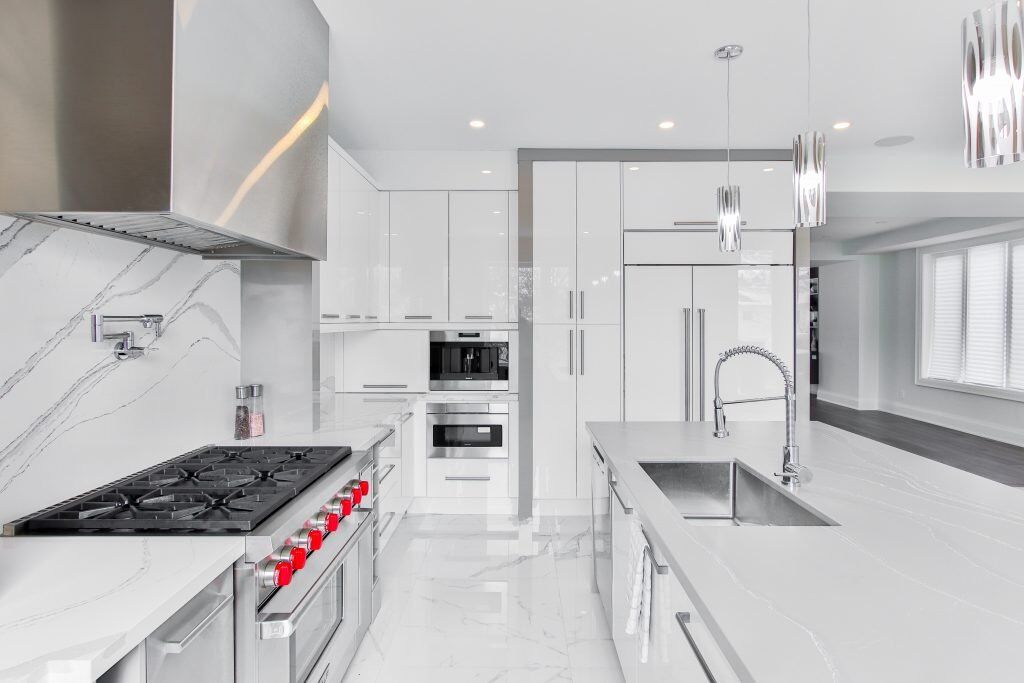 By adding a bit of shine to white cabinets they can really give off a clean (maybe even sterile look). This is ideal if you are going for the ultra modern house and less if you need a kitchen workhorse. We find this style ideal for those that want the appearance of a fancy kitchen without needing to use it that often. Still the material on the cabinets and countertops are easy to clean so you don't have to worry if you make a mess.
See Through Glass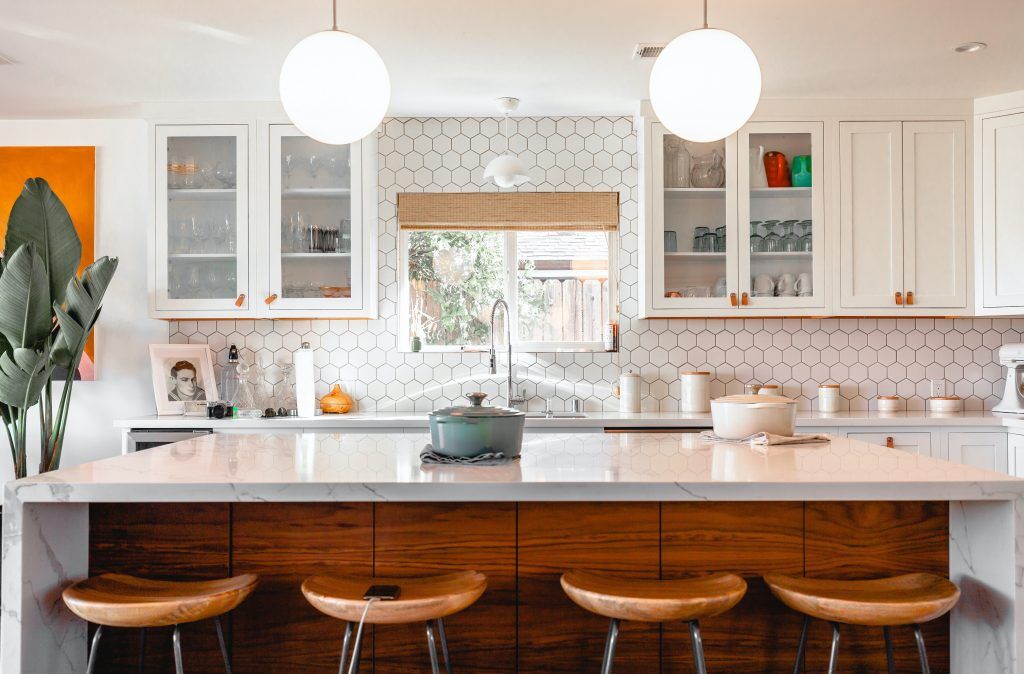 Adding see through glass can sometimes be an advantage or disadvantage. The style of seeing inside the cabinet is great for both you and guests to know exactly where everything is. It also adds another dimension of breaking up the cabinets so they don't look too much like a fitted kitchen. On the down side you must keep your cabinets clean and organized so if you are the type to have items unkept we suggest staying away from see through.
Countertop Pairing
After taking the essential first step of deciding on your style it is equally important to determine the accompanying countertop look and finish. There are a whole host of different countertop options for white cabinets that vary in terms of maintenance, eco-friendly materials, seamless finishes, textural elements, heat and scratch-resistance, and more.
Not surprisingly budgets play a huge role in selecting a countertops with the most popular choices being granite, quartz, and laminate.
Here are some options for you to consider when pairing the two together.
White Marble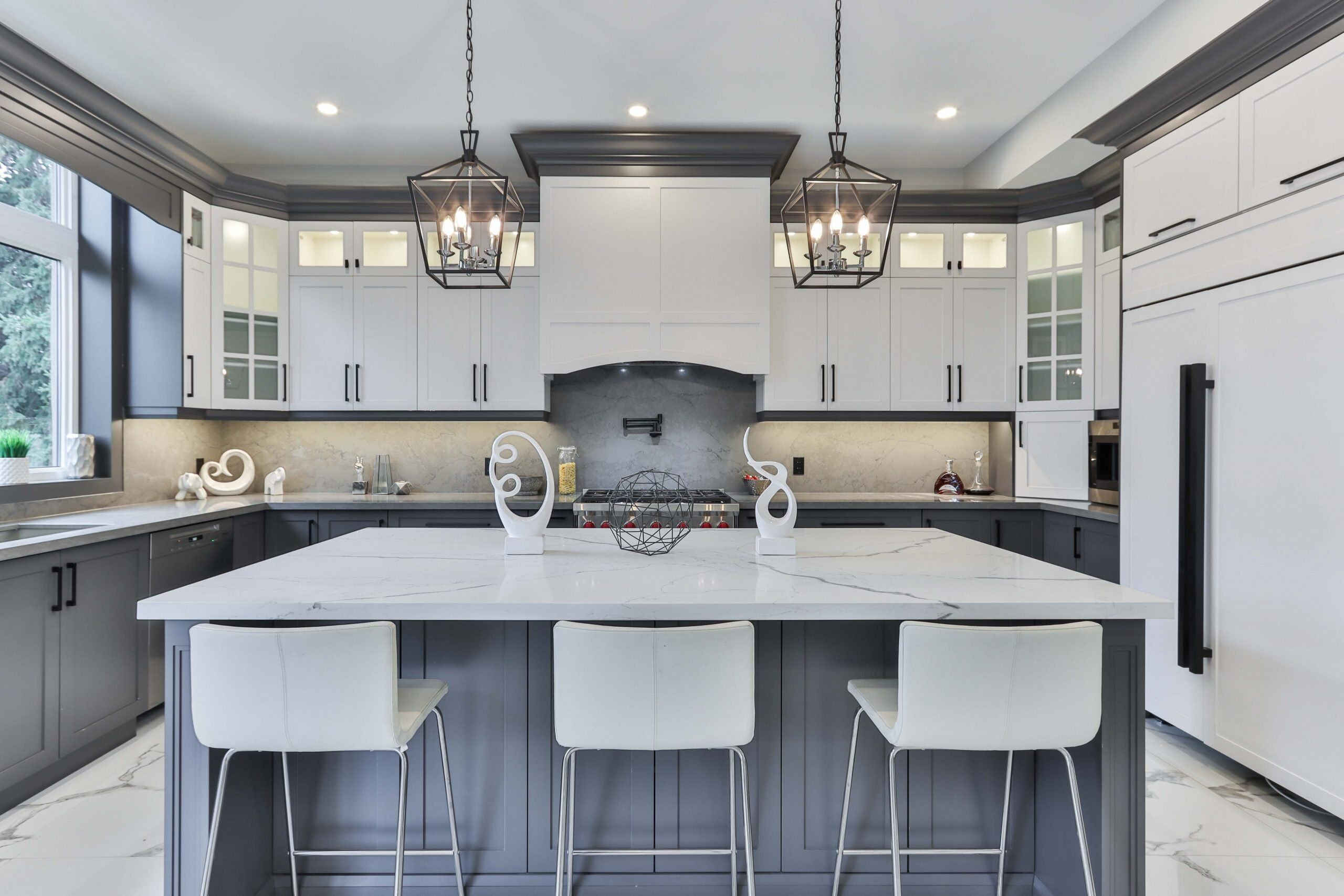 You can never really go wrong with white on white in this instance. The marble here makes the space look elegant, clean, and upscale. Due to its extremely high price tag, its most often used in limited spaces like the island rather than around the whole kitchen. Another factor to consider is scratching which you need to be very sensitive about but modern sealers can usually make it much more durable.
Granite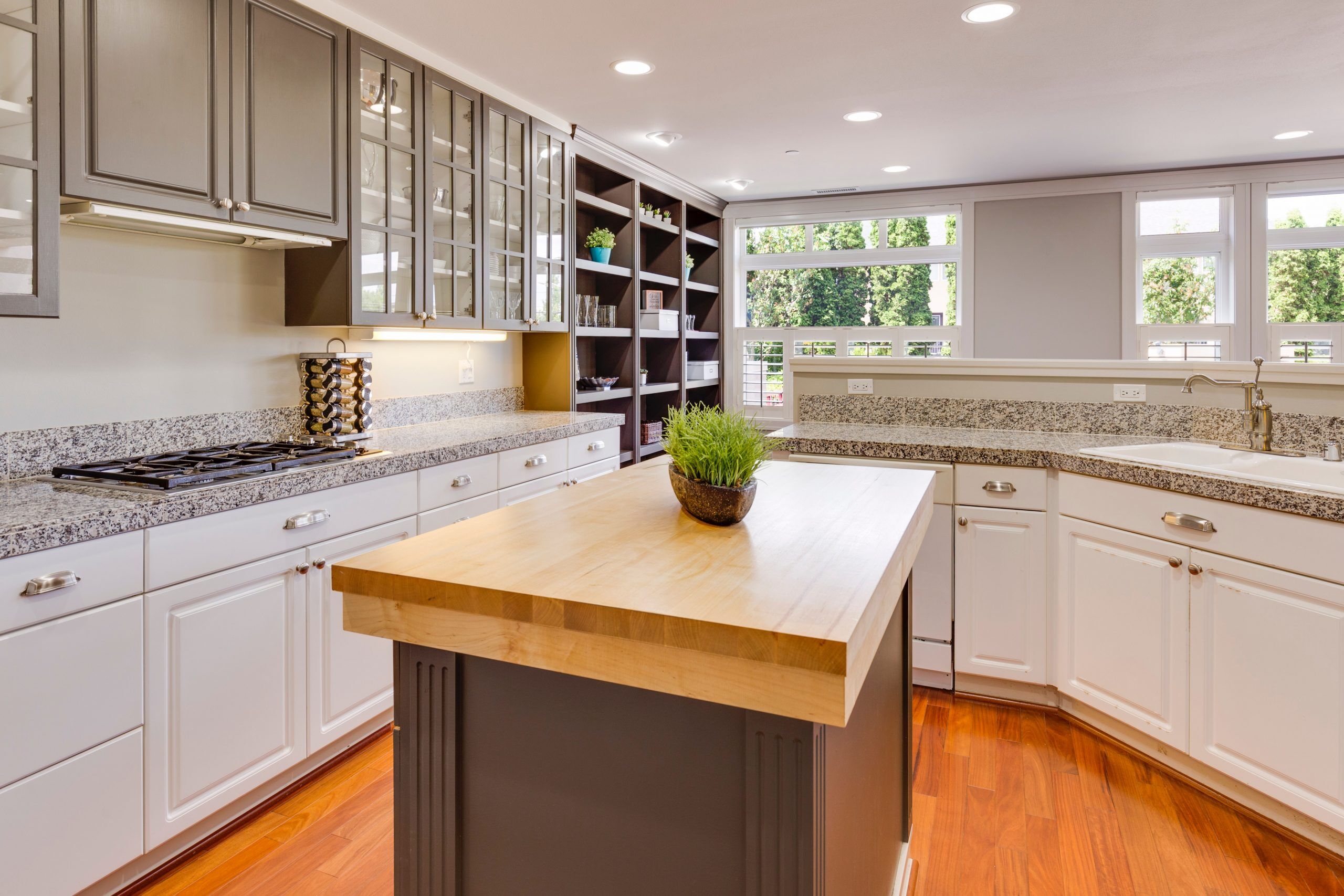 Granite countertops have been material of choice and it used to be when there are no cost issues to consider. It can define elegance in the kitchen and make a space feel more upscale as well. Lucky for all the cost has come down considerably and you can now find it easily attainable for kitchens on a variety of budgets. Engineered stones have also become more common making the same look attainable for less.
Quartz (Engineered Stone)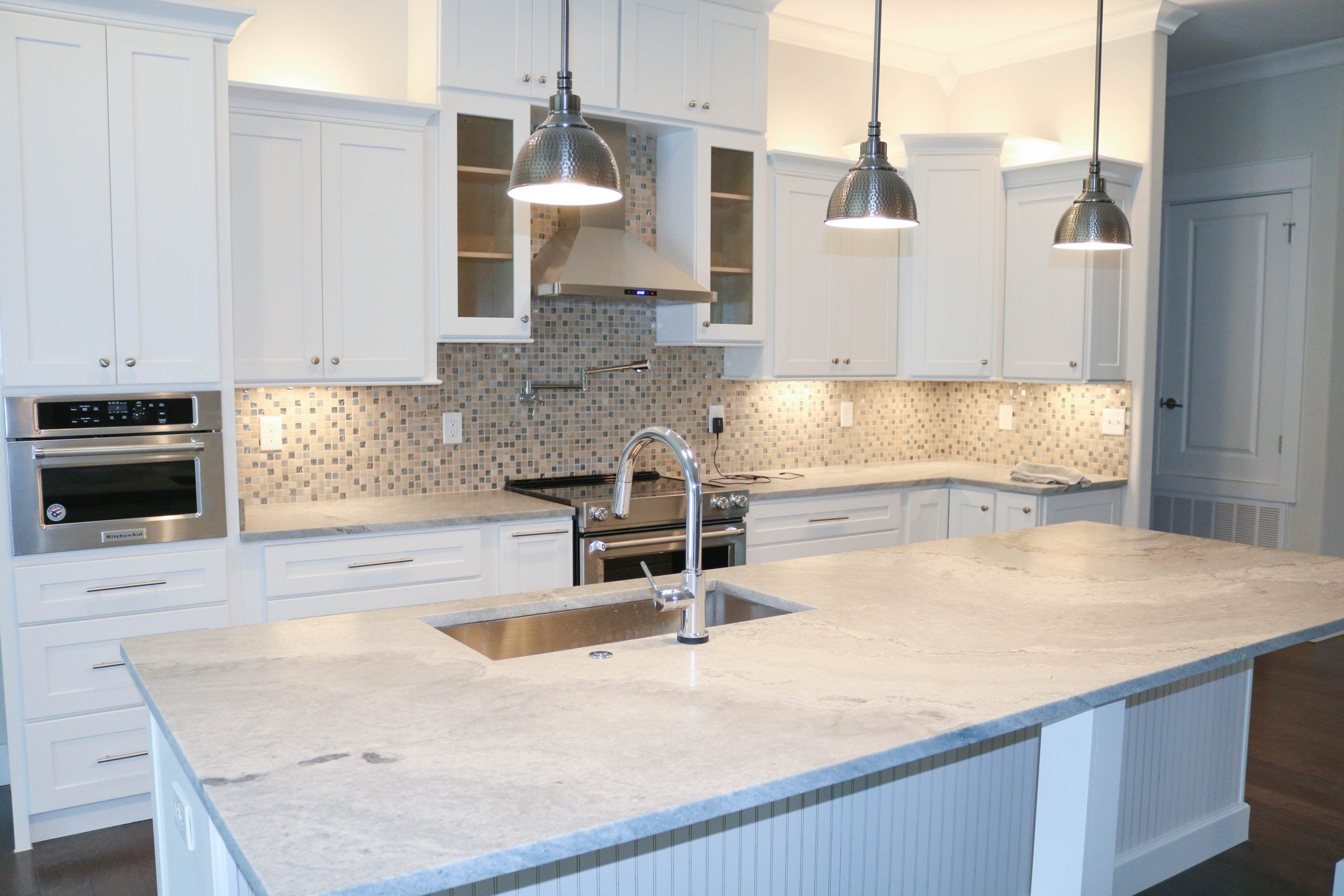 Quartz is a man made stone created to be a more adaptable and better-performing alternative to granite and marble. It is often made up of 93% quartz particles then shaped into slabs and bound with resins. The great part of this is they are super easy to maintain and can be customized to exactly your liking. The downside is they are still rather expensive but worth of consideration.
Wood or Butcher Block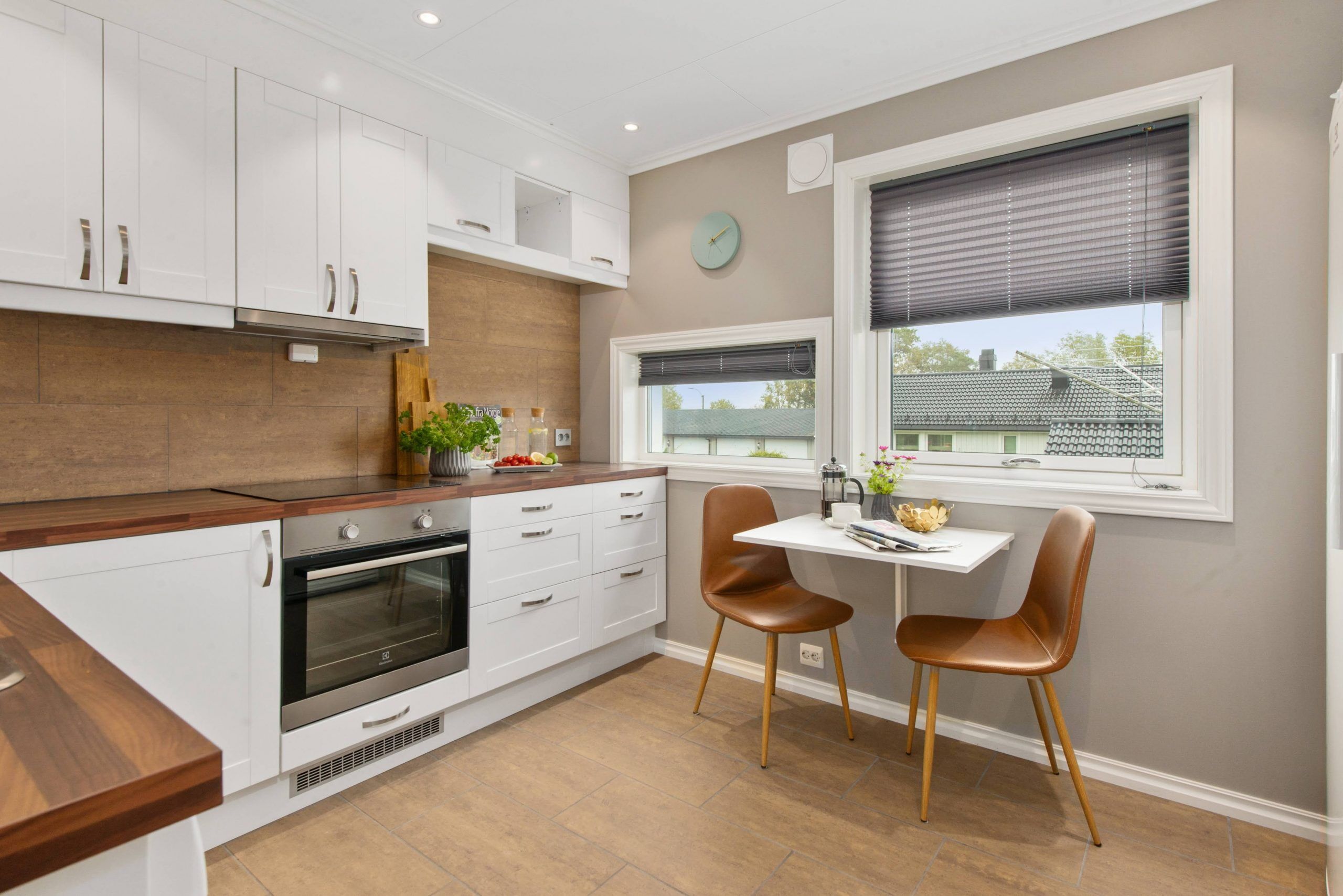 Lastly and one of our favorites is Wood or often Butcher block. We love this pairing with white cabinets because it gives off a sense of contrast that feels modern and comfortable. If you opt for butcher block then the countertop can also be a chopping area providing a more functional appeal.
Regardless of how you style it white kitchen cabinets leave you a lot of room to get creative with your kitchen. Think of it like an art board, there needs to be some neutrality that can allow other elements of your kitchen to shine. We love many of the styles of white cabinets that come out today and are sure to see more iterations in kitchens for futures to come.