Spotlight: An Eco-Friendly Kitchen Renovation
*This is the 1st installment of our Spotlight Series where we chat with foodies, chefs, business owners, brands and just regular folks about all things kitchen! Our first feature article revolves around an eco-friendly kitchen renovation from the studs up.
Renovating a kitchen can be a thrilling yet stressful process. As the heart of the home, it's important for homeowners to have a space that they can feel comfortable cooking and entertaining in. While dream kitchens come in a ton of forms, the heavy expense in both time and money that usually accompanies a full blown kitchen renovation can deter a lot of folks. But is the process really that scary? What can it look like at it's best, when all of the bells and whistles of your choosing get implemented in a kitchen remodel?
We caught up with a young couple who recently went through a full scale remodel to get their take on the process and ultimate outcome.
Alex Beck and Candace Pearson are young professionals living in Brattleboro, Vermont. Alex works for the local economic development organization, with a passion for workforce development and housing, and Candace works for BuildingGreen, a nationally renown publication on sustainable buildings and products. Together, they designed a green home that honors Vermont's aging victorians while bringing them into the 21st century.
Their renovation was a pretty big project, consisting of an entire home versus just a kitchen. The goal for the house was to buy a dilapidated victorian in a nice neighborhood in their small Vermont town. The rebuild was aimed at creating young, professional housing product, rather than an elderly vermonter retirement home. Both Candace and Alex are passionate about environmentally friendly products, and so they wanted to create a home that incorporated this passion into their daily lives. Implementing an eco-friendly kitchen renovation was hugely important for this project.
This meant opening up floor plans, choosing green products, and installing an eclectic mixture of both inexpensive and locally sourced fixtures, furniture, and materials.
The entire project was a complete gut-job. While daunting, this gave them the freedom to completely design every aspect of their home.
The kitchen that they inherited was a complete mess. An impractical layout, outdated fixtures and appliances, and poor lighting all provided ample opportunity for the couple to make their own unique mark.
The outdated appliances meant that almost nothing needed to be salvaged, giving Alex and Candace the freedom to truly design every nook and cranny of their dream kitchen.
We chatted with Alex to learn more about the process and inspirations, and to find out everything that went into creating their dream kitchen.
Kitchen Season: What were some of the considerations that were important when designing your new kitchen?
Alex Beck: I've picked up cooking and baking as a hobby/lifestyle, so making sure that we had both counter space and storage space for our kitchen and pantry was really important. We designed a galley kitchen that can fit two people back-to-back, and an elevated countertop to look into the kitchen from.
KS: Those countertops look really gorgeous and unique. What went into choosing that style?
AB: The least expensive and most interesting countertop material available to us was copper, which covers the surfaces of the entire kitchen, including the backsplashes. With copper, we had to choose between polishing it every day, or letting it patina naturally to gain color. We went with the latter, and appreciate the greens and purples that have made it's way into the material.
So it's going to look dirty and dinged up, almost intentionally.
Copper is also naturally antimicrobial, so while we can't use strong cleaning products without stripping the patina, we only need to use vinegar and water to wipe it down, which works great.
The only issue we're facing with the cooper countertops is that the glue that was applied to the underface is coming undone, but that's an installation error that we can fix with some metal nails.
KS: So with doing an entire home renovation, how did you decide what resources to allocate to the kitchen, and how did you prioritize getting everything you wanted for the kitchen within your budget versus maybe having to compromise in other aspects of the home?
AB: Well, one of the biggest perks of doing a whole-house renovation all at once was that we could put a lot of appliances in our construction loan. The kitchen was always my focus though, and the space was easiest to design. Going with the copper was definitely a cost choice, and semi-custom, not fully-custom, drawers and cabinets helped keep costs lower.
We went with open concept both to keep everything uncluttered, and to save on shelving/cupboard costs. But again, if folks are taking out a home-equity loan for a construction project in their kitchens or bathrooms, don't forget the appliances and fixtures!
KS: We know that being environmentally friendly is important to two, are there any features or gadgets that you made sure to include in the kitchen that are energy savers?
AB: Absolutely, we are an all-electric home, which means going to induction stove/cook-tops. We put in a very affordable stovetop/oven combo Frigidaire model that's worked out great.
We have curb-side compost pickup here in Vermont, so we didn't install a garbage disposal. All of our food scraps get picked up by our town weekly, so that was a money and drain saver.
All of our appliances are energy star rated, but most appliances are these days anyways, so that was easy to find, and there are a ton of affordable options.
The one quirk we learned was that because our house is so tightly sealed for energy/heat reasons, we needed a lower-grade vent hood for our stovetop.
KS: did you have to make any compromises and leave out anything that you really wanted, or if you were to do it again was there anything you felt you might want to add at a later date?
AB: Proper installation of the copper surfaces is key, because we love the material, but if we have to essentially reface the entire countertops, we might go with a different style. I think space to store things, especially appliances, is really important.
Understanding which appliances are pretty or small enough to keep out, and which ones need to be stored for there to be real organization, is tough to gauge.
KS: Where did you turn for inspiration when designing the kitchen? Did you work with an interior designer or was it mostly from your own research?
AB: It was mostly based on what we've seen before, kitchens of family and friends that we really enjoyed and that created the right vibe. Because I do a lot of cooking, and we host lots of dinner parties, we wanted the kitchen to be a part of the dining room. So we thought of the summer homes and big fancy houses and people with good hosting homes to model off of.
We did most of the layout design ourselves with our contractor. With regards to materials and other stuff, we would browse pinterest and send our carpenter the pins. We'd talk it over, he'd tell us what he thought was possible, and then send them on their way to find materials to make it work.
KS: so being a first time home owner, looking back is there anything you felt you missed or didn't think about when designing your kitchen that you wished you had considered?
AB: Well, make sure there is enough space for everything, but don't overthink where things will go. You'll figure out which cupboard is for baking gear and which is for Tupperware. If you don't plan on space for both, you're in trouble.
The pantry and bar are extensions of your kitchen…and while they don't need to be connected physically, I need to walk halfway around my first floor to go from the fridge/freezer, where ice and vermouth is, to the bar. So it was important to have a bar space close by.
KS: Whats the most fun meal you've prepped in the new kitchen , or what meal do you find yourself enjoying to cook the most now?
AB. Ohh, it's gotta be pizza, for a few reasons…
The first is that I can roll out dough AND have space for toppings, where in our old apartment, there was barely any space. Also having prep space away from the face of the oven means people sitting or prepping food aren't blasted with 500 degree air when we open the oven.
And lastly, because of the countertop set-up, our kitchen is designed for folks to be IN it, and around it, which makes cooking interactive and fun.
Whether you plan for it or not, no matter how pretty the appetizer plate you set in your living room, your family and guests WILL stand in/around your kitchen, so if you can design for it, or you can plan around that assumption, it'll be a great place to host.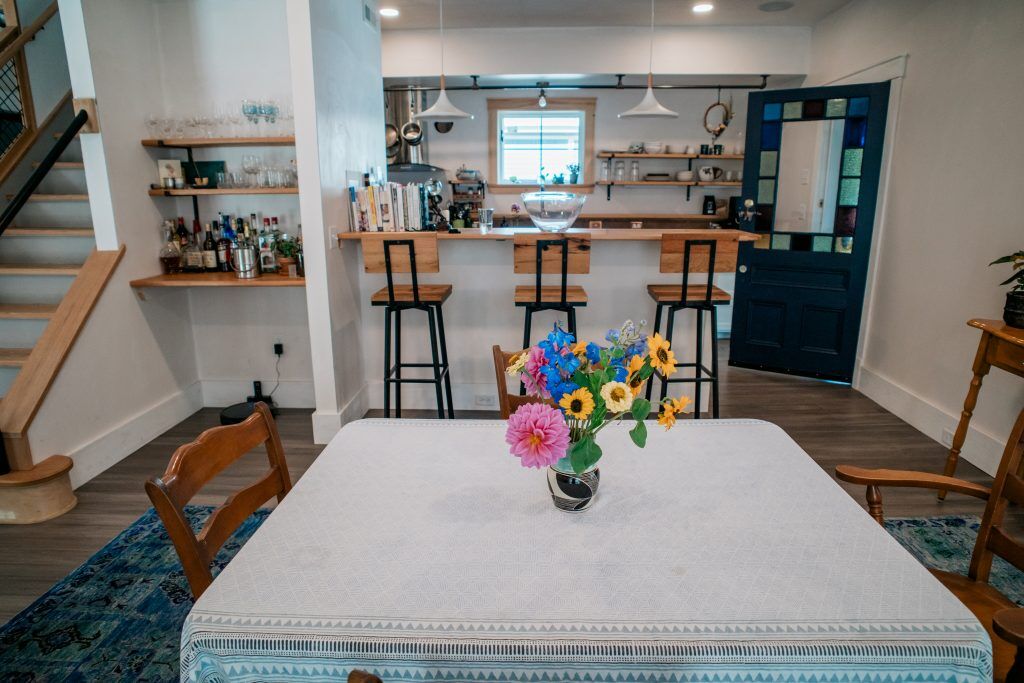 KS: Where did you go for some of the feature pieces or unique fixtures you put into the kitchen?
AB: Well, for the sink, we wanted a big old farmhouse sink, but we were limited in suppliers. We could found old, enormous, actual farmhouse sinks for relatively cheap, but they were either too heavy or too wide for our counter space. So went to Wayfair to save costs. For the faucet, I worked in commercial kitchens growing up, so I've always liked the overhead/springy faucet. We picked a brush cooper to match counter tops, which I think works well. Also keep in mind that drawer knobs are more expensive than you think, and it's important to get them professionally installed.
*Thinking about upgrading your kitchen but don't want to do a complete redesign? Check out these dinner brands that help elevate any space, or these incredible kitchen range brands! And make sure to visit your local Kitchen Supply Store for the latest products!