Materials to Consider for a Chefs Knife
Most shoppers don't take notice of what kind of materials make up the blade of a chefs knife, but there's good reason to understand how (and why) your knife has come together. Between the blade and how it molds with the handle itself, there's a few things to consider.
While not all chefs knives are created equal, it's a pretty safe bet that the blades are all made with the same types of metal, generally a variety of stainless steel. But while some materials like ceramic can be found from time to time, steel is the standard bearer. For good reason.
Here's what to know when it comes to the materials that make up a chefs knife.
The Blade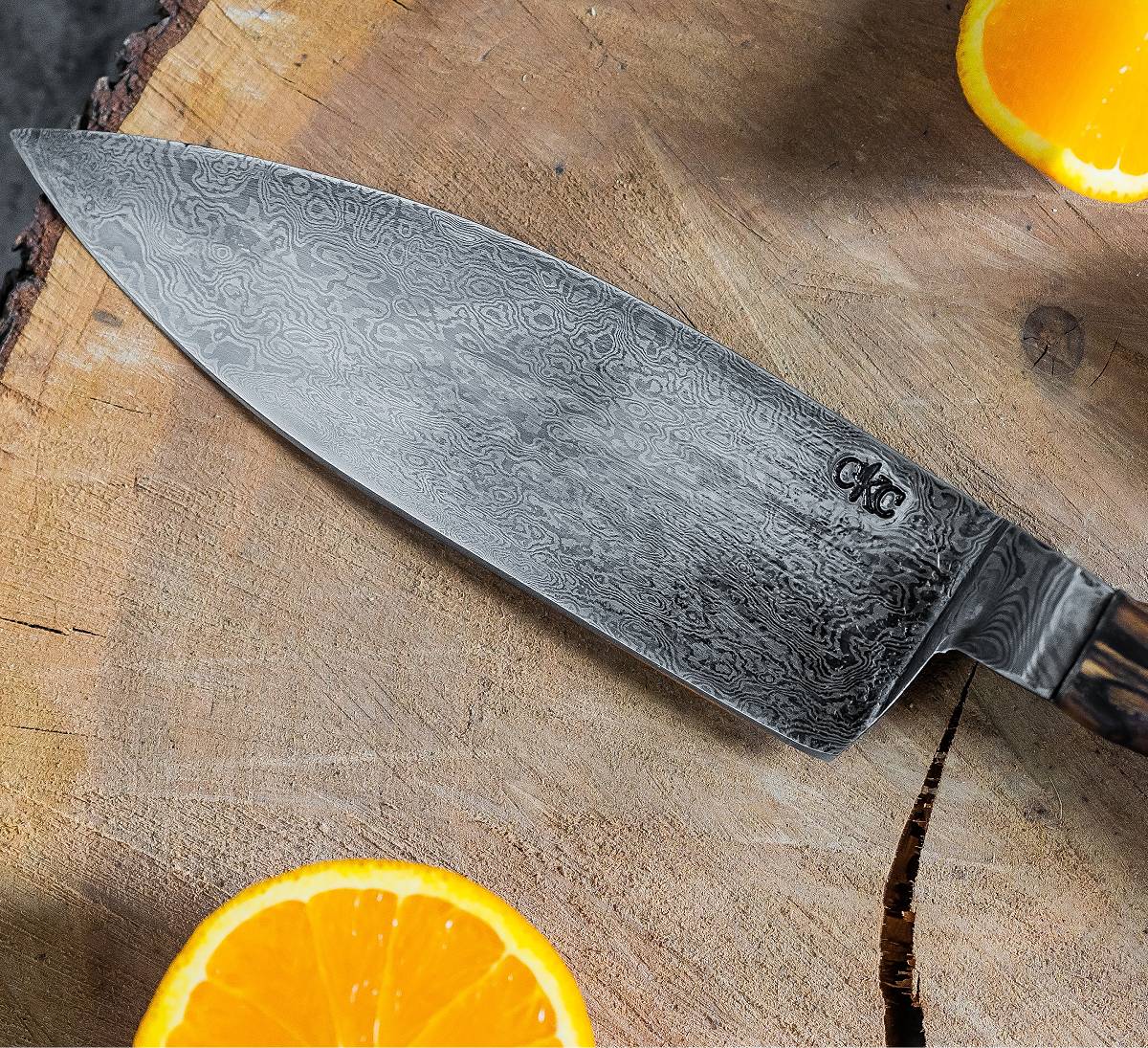 All of the knives that we recommend have blades made with stainless steel, or as marketers like to say, "high-carbon" steel. Do not be confused by this fancy jargon. All steel is infused with carbon, and all "stainless" steels have very similar amounts of carbon that might vary by only 1 percent or less. There is not a dramatic difference (as far as the amount of carbon present) between stainless steel and high-carbon stainless steel, it is simply a branding term.
On the other hand, however, there is a rather big difference between "high-carbon stainless steel" and just plain old "carbon steel." Carbon steel lacks a healthy dose of chromium (10.5 to 30%)—which is the element that allows stainless steel to resist corrosion and rust.
The more that you use a knife, the more it will need to be washed and cared for. It's important to understand that carbon steel can degrade and rust rather quickly, whereas stainless steel tends to hold its quality better over time.
On the other hand, high caliber carbon steel can take a finer/sharper edge and hold it for a longer period of time than most stainless steels. Other steel, like Damascus, lend an appealing visual aesthetic to the chefs knife.
Stainless Steel
Prices last updated on 2023-09-10
Corrosion resistant.
Low quality stainless steel isn't as sharp on the edge.
Easy to manufacture & affordable.
High quality stainless steel is low maintenance, can have a sharper edge.
Carbon Steel
Carbon infused steel makes for blades with a sharper edge.
More brittle, and more likely to chip and stain.
Should be cleaned and maintained regularly.
Best to use on softer foods.
High Carbon Stainless Steel
Prices last updated on 2023-09-10
Premium, well-crafted blade.
Razor sharp blades made with varying degrees of alloy.
Rust and corrosion resistant.
Easy maintenance, harder to chip.
Balanced material ensures chefs knife excels at most tasks, highly versatile.
Damascus Steel
Layered forging process creates beautiful and complex visual appearance.
Combination of steel layers the blade of the knife.
Each chefs knife can performing differently depending on how it was produced.
Not just a show piece; at their best these knives have properties similar to carbon steel models.
Can be expensive due to intricate design and process.
Ceramic
Lightweight blade.
Razor sharp edge, some of the sharpest around.
Hard material that can't easily be sharpened without professional help.
Can break or chip easily if dropped or mishandled.